Several months back I came across
One Word 365
. Instead of having New Year's resolutions, One Word 365 is about picking one word to define your year. One word that sums up who you want to be, or how you want to live. One word that you can focus on every day, all year long. I was a little late to the game, but I was already living my word: SERVE. #projectlove was a huge part of me living out my word. Saying "yes" whenever possible, and dreaming God-Sized dreams, are a part of serving my family, friends and complete strangers.
When I first found the One Word site I read about
D'Wana and the amazing act of service
she has been doing. Today I get to serve you with a fabulous giveaway and introduce you to D'Wana. She started making leather cuffs last fall and has just opened her Etsy shop,
Mountain Girl Melodies
. Here is part of her story:
I am a Brave Girl. I am a student of the creative life. I have learned that art and creativity can put me in the happiest place I know. I am the wife of a country boy. I am the mother of 5 beautiful, growing ever too fast, children ranging from 3-22. I live a quiet country life and enjoy all the PEACE it affords. I have a love for WORDS and TRUTH and watching BRAVE things happen when given the chance. I love artsy photography. I am also fond of pounding leather and painting it pretty..... I am encouraged by the ones I choose to do life with. I am a new blogger and a new small business owner. Because I can be. :)

I started by taking an art course online with the Brave Girls Club. I had never attempted anything artsy but LOVE creative people. One week we learned to stamp leather and I was hooked. I started making cuffs and giving them away. That was last fall. In February we had a women's conference and I was asked if I wanted to take orders and sell them at the conference. God totally set me up. I needed to raise money for a trip I took to Africa in June. He provided all the funds. I dreaded the idea of support letters so he gave me a gift and it has turned out to be a powerful journey as I learn the stories behind the words I stamp. It's empowering for me and for people who wear them.

I was asked to return to Africa in 2014 to TEACH women a trade so that they can self support and get out of poverty and bless others. I know I will be given all the tools and wisdom necessary between now and then. This past trip to Africa was to reach the poor, rural and otherwise forgotten of Southern Africa. We visited 1-2 schools a day to pass out handsewn animals, toothbrushes, soccer balls, jump ropes and books. My purpose was to reach out to women. They are completely uncelebrated. I had about 500 small handmade cards that were sent to me by women all over the world. They encourage. They are called "truth cards." To show value and beauty and to remind women that they matter. I helped lead worship and taught. But mostly, I LOVED people. That's my passion. My heart is there. I will keep stamping bracelets and do whatever it takes to get back there in 2014!
Isn't she amazing?! D'Wana's heart is BEAUTIFUL! And can you guess what I'm wearing right now as I type? Yep, my own Melodies Leather Cuff. It was a super happy mail day last week when it arrived. And now for your chance at a super happy mail day!
Enter below for your chance to win your own Melodies Leather Cuff. You will pick the color and your word(s) to proudly wear. Wear your cuff as a reminder of your daily steps toward living your life for Jesus! There is more! I am also giving away a Wildflower Necklace from my own shop. Enter below and come back next Tuesday when I will announce the two winners, one for the Melodies Leather Cuff and one for the Wildflower necklace. And I am offering 20% off all sales this week only for my Facebook fans. All Squisher fans can grab the code on my Facebook page. Good luck!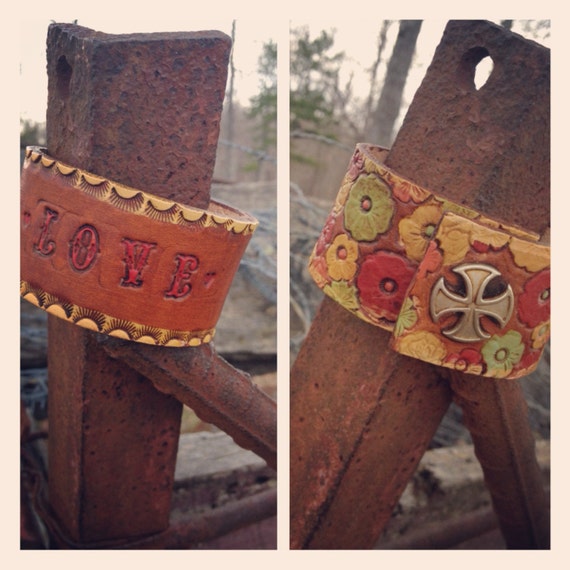 a Rafflecopter giveaway
** Thanks to Mountain Girl Melodies for this item to giveaway.
There was no compensation for the giveaway itself or to influence my choice of words.
Any opinions shared are my own.