So I came across Tot School a few weeks ago. I guess I have been teaching Little Bo Peep in a Tot School fashion for some time, little did I know there were other moms doing the same with their kiddies. So today is my first official Tot School post.
Yesterday Little Bo Peep was working away with her play dough (pardon the color it's "purple," we are making new play dough tomorrow!!!). I was in the kitchen working on lunch and she calls into me, "Mumma, look what I made for you!" When I came in she was beaming with this little snake-like piece in her hand. Then she told me, "I made it with my hand!"


Now that Goldilocks is almost one she has entered Tot School too (plus this way I can keep my mom happy since there will be more pictures of her!).




After lunch and after Goldilocks was down for her nap Little Bo Peep was playing with her Little People farm. She had turned the two tractors into herself and me. The only reason I knew this was because she was acting out the blue tractor (me) giving the red tractor (herself) a spanking! After the spanking was over we (the two tractors) started twirling and dancing.




After a few minutes of this she informed me that the tractors needed new batteries. I tried to tell her that these tractors didn't have any batteries, but she wouldn't accept that.




So I got out the drill. I know the drill is over the top for Little People tractors especially ones that don't have batteries, but the only screwdriver small enough for those tiny screws was a bit for the drill. Plus Little Bo Peep was able to use her drill!

We set to work opening the tractors to investigate if they needed new batteries. As I tried to tell her in the beginning, they do not have batteries.




Today Little Bo Peep started with some coloring. And Goldilocks started with some Oreo's from our matching Oreo game. I was hoping she would start to pull them apart, but she enjoyed rubbing her almost

new

second tooth on the rough edges.




After Little Bo Peep saw that Goldilocks was playing with the Oreo's she wanted in on that action. I encouraged her to color some more, which she did, for about

three minutes

. Then they both played with the Oreo's. Little Bo Peep was matching and at this point Goldilocks was just dropping.




I pulled out some "touchy" items for Goldilocks. My sister-in-law gave her a cute book for Christmas last year that has fuzzy colors on one page and colorful animal pictures on the other page. She played with that and two terry cloth finger puppets for the bath. These kept her occupied til she started crying because she needed her morning nap (I think this girl will take multiple naps until age seven).




While Goldilocks was playing with tactile objects Little Bo Peep and I were playing Candy Land Castle Game. When I was little I loved Candy Land, well okay I still do! We had fun taking turns and she won! I didn't even have to "let" her, although I don't think she has really grasped the winning concept. But never fear my competitive side is bound to come out eventually.




Then Little Bo Peep spent some time reading her Baby Einstein book.




After Goldilocks woke up we were all sitting on the couch looking out the front window (one of our favorite things to do). Our friend Little Chicky (a little American Goldfinch who has been coming to our yard for several years) stopped by for lunch again. She was pecking away at the coneflowers for some time not to be disturbed by my tots waving to her. After she flew away I went to get a flower for Little Bo Peep and I to dissect.




That's our Tot School so far this week. Check out other Tot School families over at 1+1+1=1.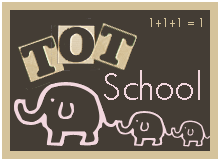 Andi and Brad have been married since 2002. They have five squishers who keep them on their toes. She is a second generation home educator. In her spare time Andi creates and sells handmade goodies in her shop, Andi Gould Designs.