I was looking at some different stuff online (now that those piles of laundry are done screaming my name incessantly) and I came across a blog contest sponsored by
The Parent Bloggers Network
and
Highlights
. You are supposed to blog about something you did as a child that you are now sharing with your own children. There are so many things I try to share with the girls that I enjoyed as a child but two come to mind for this blog.
I was given two dolls, Peanut Butter and Jelly, when I was about three. I loved these dolls and still have them today. They have joined the ever-growing doll collection that resides in my daughters room's. Little Bo Peep has really become attached to them the past few weeks. When she is supposed to be sleeping or napping I find her out of bed playing with them or at least bringing them to bed with her. I love to see her enjoy the dolls I loved so much as a young girl. I look forward to her understanding that they were once my cherished dolls too.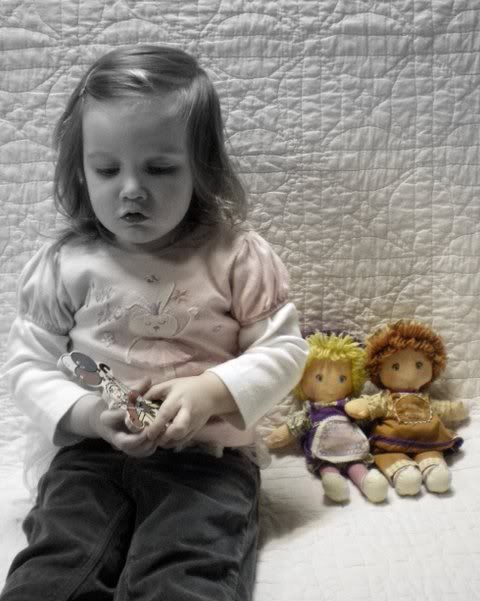 These images were edited with picnik.
The other childhood memory I have that I am now sharing is Highlights. I remember reading Highlights in my playroom for hours. I would sit by the bookshelf and poor over the issues, looking for the hidden pictures, reading the stories and my favorite was the mixed-up pictures on the back of the issues. When my brother and I were a little bit older my mom gave the issues that we still had to our chiropractor to keep in his waiting room. I still go to this chiropractor and amazingly enough he still has those Highlights issues in his waiting room. Little Bo Peep enjoys looking at them when we go to the office and one day Goldilocks will be able to enjoy them with her big sister.