Two months is WAY too long! I was talking to one of my best friends the other day and it hit me how much not writing here makes her miss out on my life. Since she lives in Texas this is the only way for her to
see
what is going on. I know there are others who don't get much of what is going on around here when I don't keep up, so I am sorry for keeping you out of the loop.
The last two months have been crazy at work getting ready for Christmas, but SO exciting at home getting ready for Christmas! Christmas is my favorite time of the year. It is my favorite holiday and I love everything about it!!! I was so sad yesterday when the local radio station went back to it's "regular music," I will miss the 'round the clock Christmas music.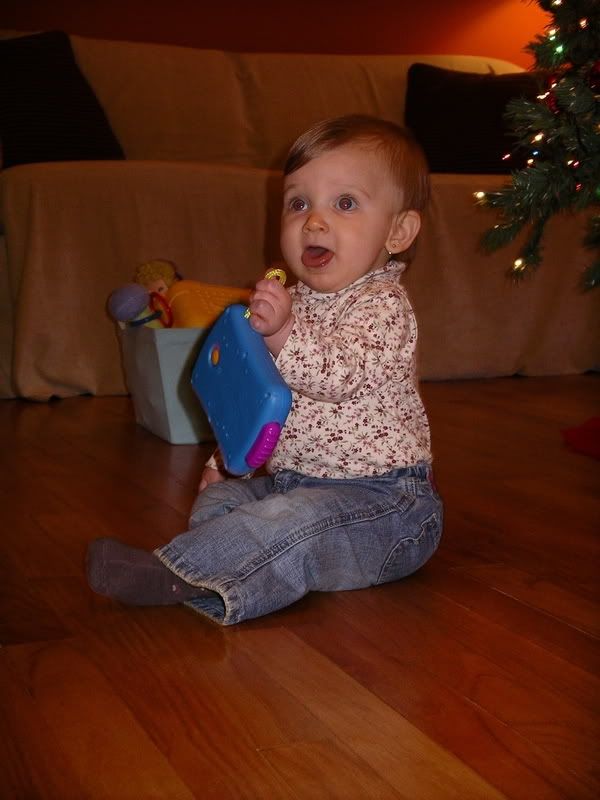 This past Sunday, Christmas Eve, B and I dedicated Little Bo Peep at church. We, along with six other families, had the opportunity to stand before our church family and families to say that we wanted to raise our children the way God has called us to do.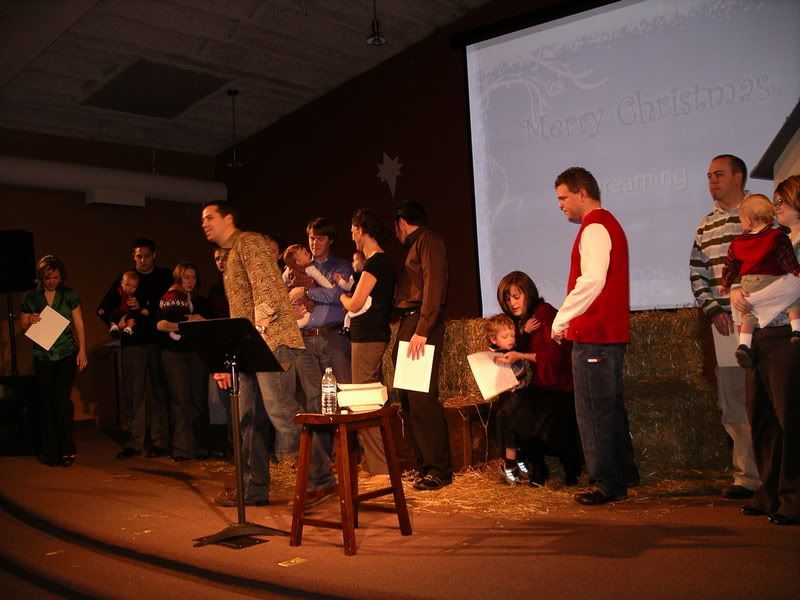 This was the first time we have had a dedication at our church since we are so new. Every family was able to write and read a prayer to their child. Here is the prayer we prayed for Little Bo Peep:
Father God, we thank you for our little Little Bo Peep. We thank you that she is so full of hustle and bustle, so curious and full of surprises, and we hope not to lose sight of that as all of us grow. We recognize too that she is a blessing and that she is not ours, but yours. Please help us to be good stewards of your gift and help us to raise her up in the way that she should go. We pray that she would know how much we love her, and how much you love her, and that in time she would love you and give her life to you. We ask as well that you would help her to continue to grow healthy and strong and that she would not lose her curiosity and her love for life. Thank you again for our gift; our blessing; our Little Bo Peep. She is yours.
".. later we learn that the big things of God are often the small things of life"

Christmas day we spent the day with my family. The last time I spent all of Christmas day with my family was before B and I were married. It was so nice to be at my parents and hang out all day. Little Bo Peep was so funny when she opened her gifts. Every single piece of wrapping paper she had to give to my dad.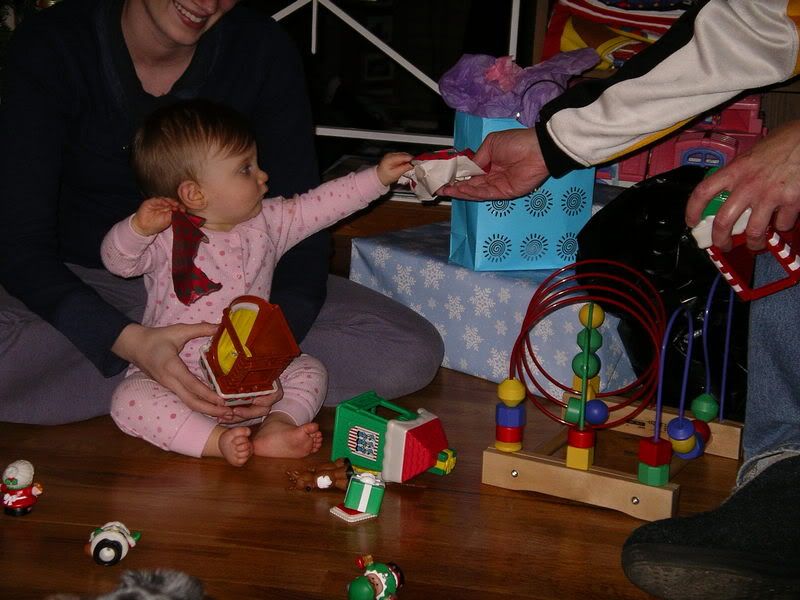 I thought it was really funny because my dad is always the one with the trash bag collecting the wrapping paper every Christmas. She fell right in line with the rules. I was so excited that she loved her toy balls we found at Target. I had been looking for something that was not too big that she could hold and we found a box set of four playground balls. When she opened them up she took the yellow and then the blue.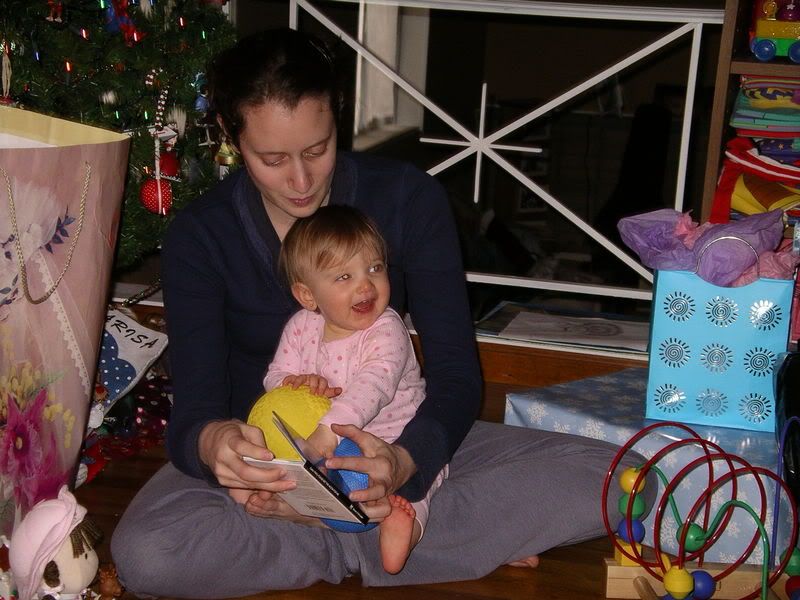 We have discovered blue is her favorite color. Every time she has a group of toys, she always takes the blue toy. I was not surprised when she grabbed the blue one but the yellow one had to be there too. Anytime I would try to put them aside she would get all squirmy trying to get them back and as soon as I gave them back to her she would finish opening her other gifts. It was a good half an hour maybe a whole hour before she put them down and played with her other toys.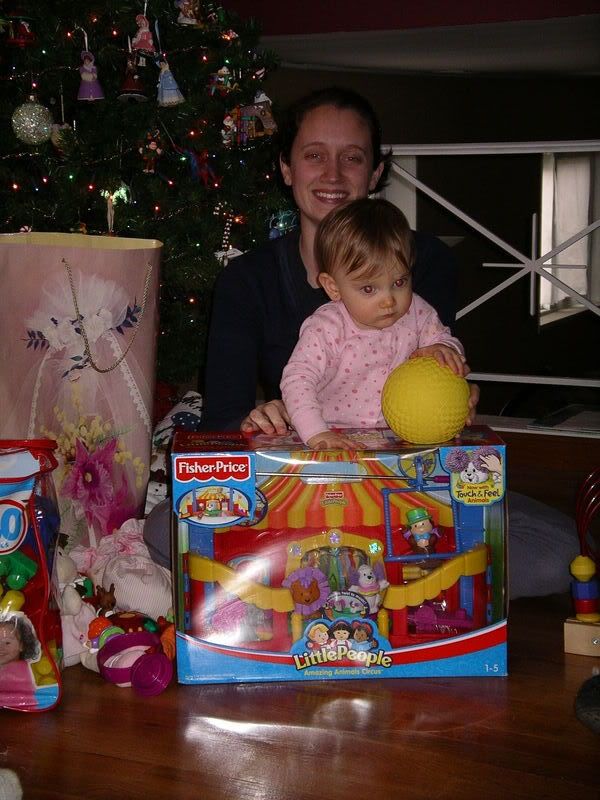 Today she was playing with some toys and she kept taking the blue and yellow rings off of her stacking toy.
I thought Monday was just a weird fluke but now I'm wondering how early rebellion can really set in. Her
WHOLE
family is against U of M. We are all either MSU or OSU fans, the only thing we have in common is the strong dislike of U of M.
Could she be so cross bred that she has gone down the wrong path? Can green and white mixed with scarlet and grey turn out maze and blue? Oh the torture she will have in this family.
I hope everyone had a great holiday and I am wishing everyone a Happy New Year!