The past few weeks have been a bit crazy. I am planning my first Open House event for this Sunday for my new Stampin' Up! business. I also am planning our upcoming vacation. Every year we go to Litchfield with Brad's family. This is the first year we are taking our own car, so I am trying to figure out how to pack the trunk so that we don't have a ton of stuff in the back seat with Little Bo Peep. The hardest thing is deciding which sand toys can make it in the car and which must stay behind at home. We just bought Little Bo Peep a nature sound machine (a.k.a. "The sophisticated white noise machine."), for her to use while sleeping. One of the sounds is "Ocean Waves." The waves are calling Brad and I. When we are at the beach we usually go out to the ocean and watch the sunrise at least one morning. The beach is so peaceful that early. Usually there is only the occasional jogger and all you hear are the waves and the birds.
Here are a few pictures I have taken of Little Bo Peep the past few weeks:
the other day Brad came home from work to find a "very excited to see Daddy" Little Bo Peep.
I bought these storage boxes to keep all of Little Bo Peep's toys in, she loves playing with the boxes just as much as the toys.
"I'm six months old now!"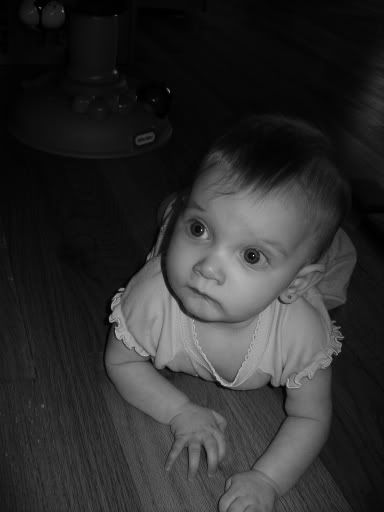 She is now six months old and the day I took her pictures she decided she was going to become lethargic the minute the camera came out. I did get a few cute pictures. I think they capture her current state very well… into every thing!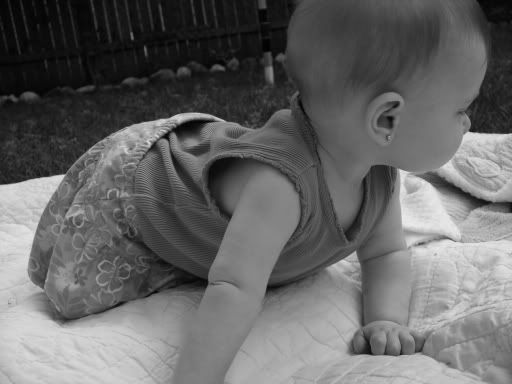 "Mumma, I don't have time to sit still for your pictures, I have things to see."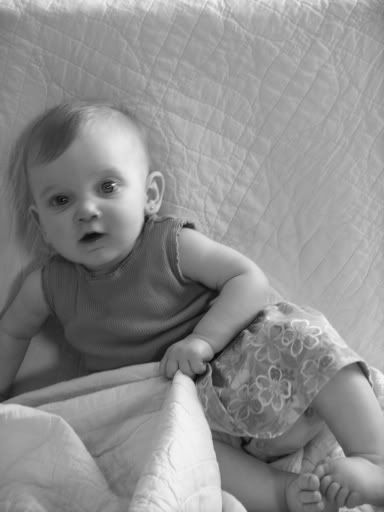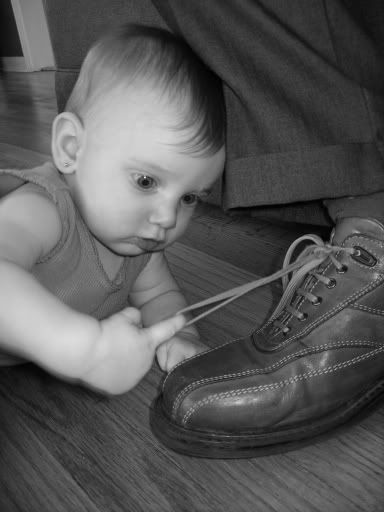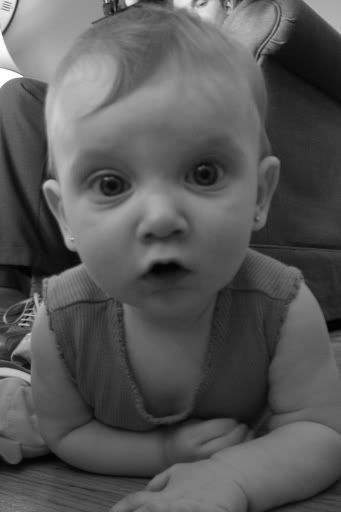 I have decided I am a reality TV junkie! I think reality TV, though staged most of the time, is so much more refreshing than most dramas or sitcoms. Basically if I have the choice between a scripted show and a reality show, I'll watch the reality. I was watching a show last night and it struck me funny that a particular girl on the show was appearing for the
sixth
time on a reality show. I may be a reality junkie, but she is a reality cast member junkie. I just can't imagine giving up that much of your time at home to appear on
six different reality TV shows
.
If I am not mistaken it is still summer. And while it is summer one would think you could find summer gear in the stores. WRONG! I have been looking for a beach umbrella, but no one has summer gear anymore. I stopped to ask someone at Target while I was there the other day if they had beach umbrellas. He looked at me and laughed then said, "We have been getting rid of things like that for weeks." I have been to seven different stores looking for beach umbrellas. The stores don't have beach umbrellas much less any summer gear. Is it my fault that I take my vacation at the end of the summer and don't think about thing like this until a month before I leave? NO! I am so irritated by stores!
A while back we were at our local Burger King and next door is Rally's. Now if you have never been to Rally's before, it is a drive through only for most of their locations. They usually have picnic tables outside and a walk up window to order from if you really want to stay and eat there, but the walk up window is still outside. Well they are doing some remolding (supposedly, I still have not seen any work done yet and the sign has been up for two months now). I finally remembered to take my camera the other day to get a picture of this sign that I find so ironic.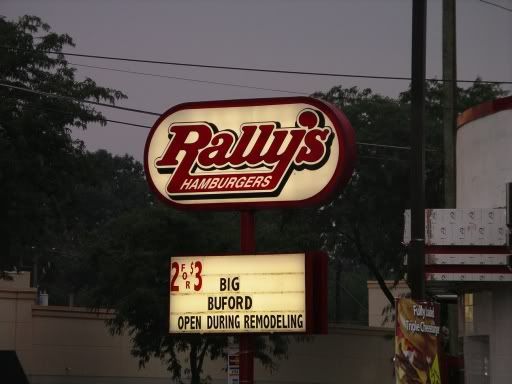 First of all where is the "dust." And second even if there was dust, outside, you are outside, who cares! Every time we drive by I get a good laugh.